Save emails to PDF with 1 click!
1-click download
Batch save of multiple emails into 1 doc
Create encrypted PDF with your emails
Add page numbers, merge emails, etc.
Export emails in PDF, HTML, or TXT formats
Install Save Emails to PDF
Integrated into Gmail No extra software!
Save any email conversation to your hard drive with 1 click!
Package multiple emails as one PDF file!
Organize all your emails for litigation to send to your lawyer
Create a PDF with all email messages related to your transaction or project
Create a hard copy backup of your emails for your own records
Fully Integrated with Gmail
Save Emails to PDF is made specifically to work with Gmail and Google Workspace email accounts. Once you install the free Chrome extension, all your emails can be converted to PDF with one click of a button.

Here is how it is easy to save your messages as a PDF :
Step 1: Select messages you want to save
Step 2: Click on 'Save Emails to PDF' menu
Step 3: Select options

Save Individual Emails
Save Emails to PDF adds a button to Gmail's interface that enables you to download individual emails with one click. The email and any attachments will immediately be saved to your hard drive.
Batch Save Multiple Emails
From your inbox, select multiple emails to save as a batch. You can save multiple emails in 1 document in the following formats:
A paginated PDF
Zip file with inividual PDFs
TXT
HTML Format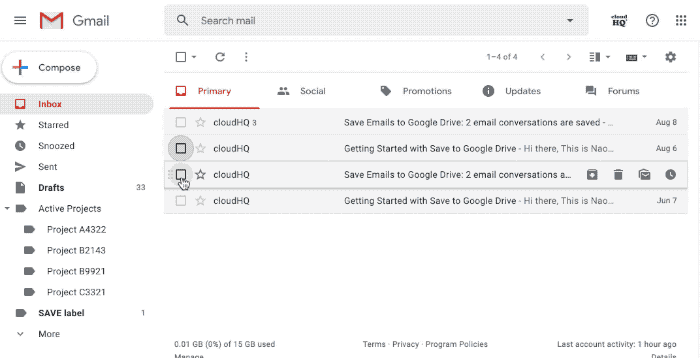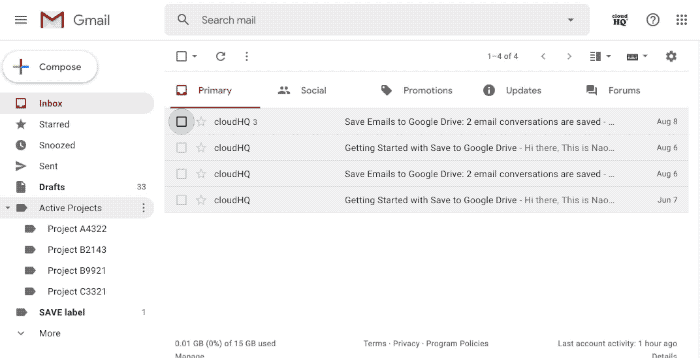 Package Multiple Emails into One PDF
Attorneys can download and package all email correspondence related to a litigation with few clicks. You can package all emails into one PDF document. The document will be paginaged and each email will have both receive and sent dates. Also, all attached documents and excel spreadsheets will be also added to that PDF document.
Package Emails for Courts or for Your Lawyer
Save Emails to PDF can package all email communication with a certain person (sent and received emails) into a single, nicely organized PDF document (ordered from oldest to newest). Moreover, the PDF contains unaltered emails; thus, it is admissible as a legal document in courts. All generated PDF documents comply with the court's or regulatory agency's rules and standards. Learn more here.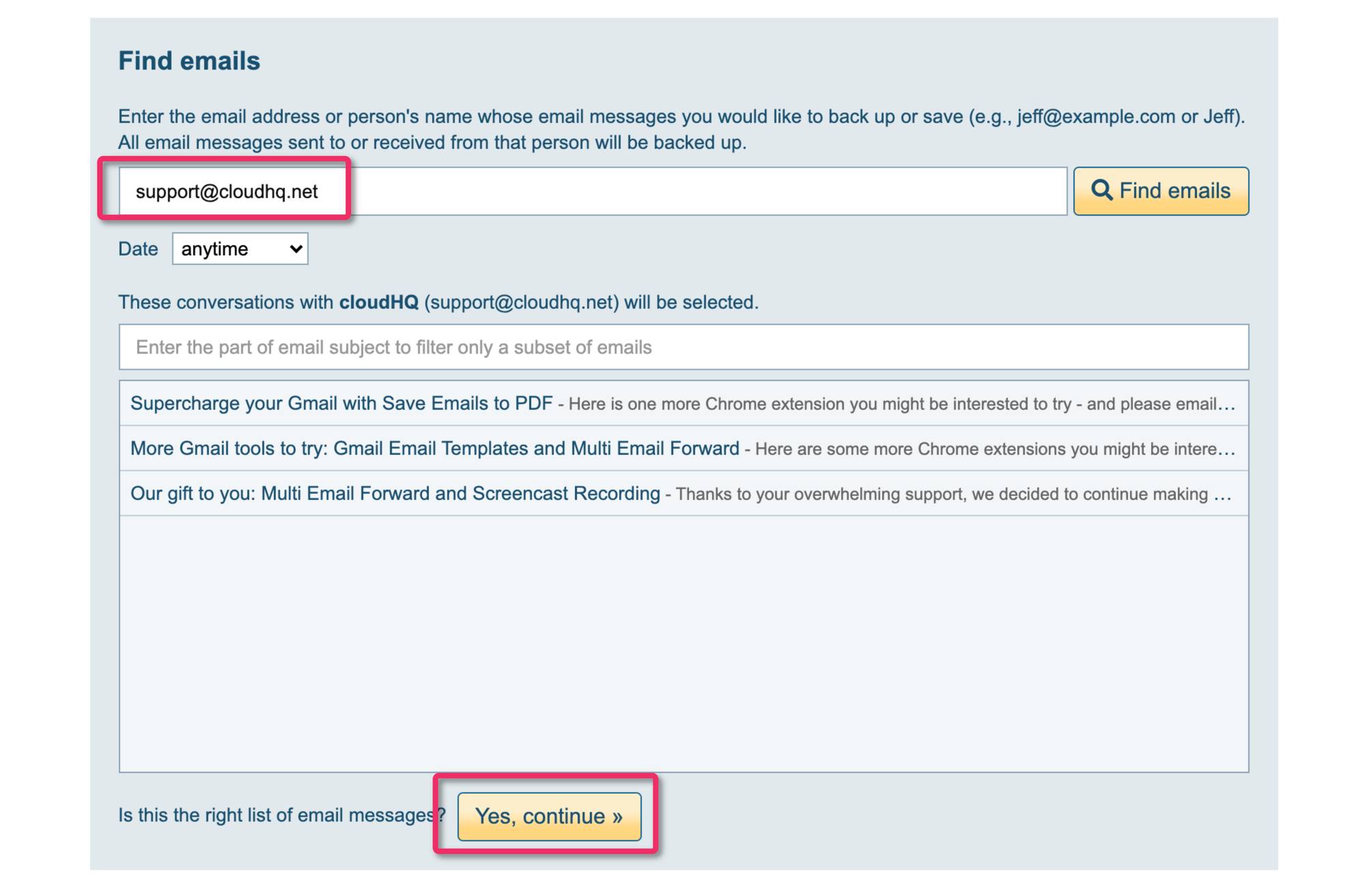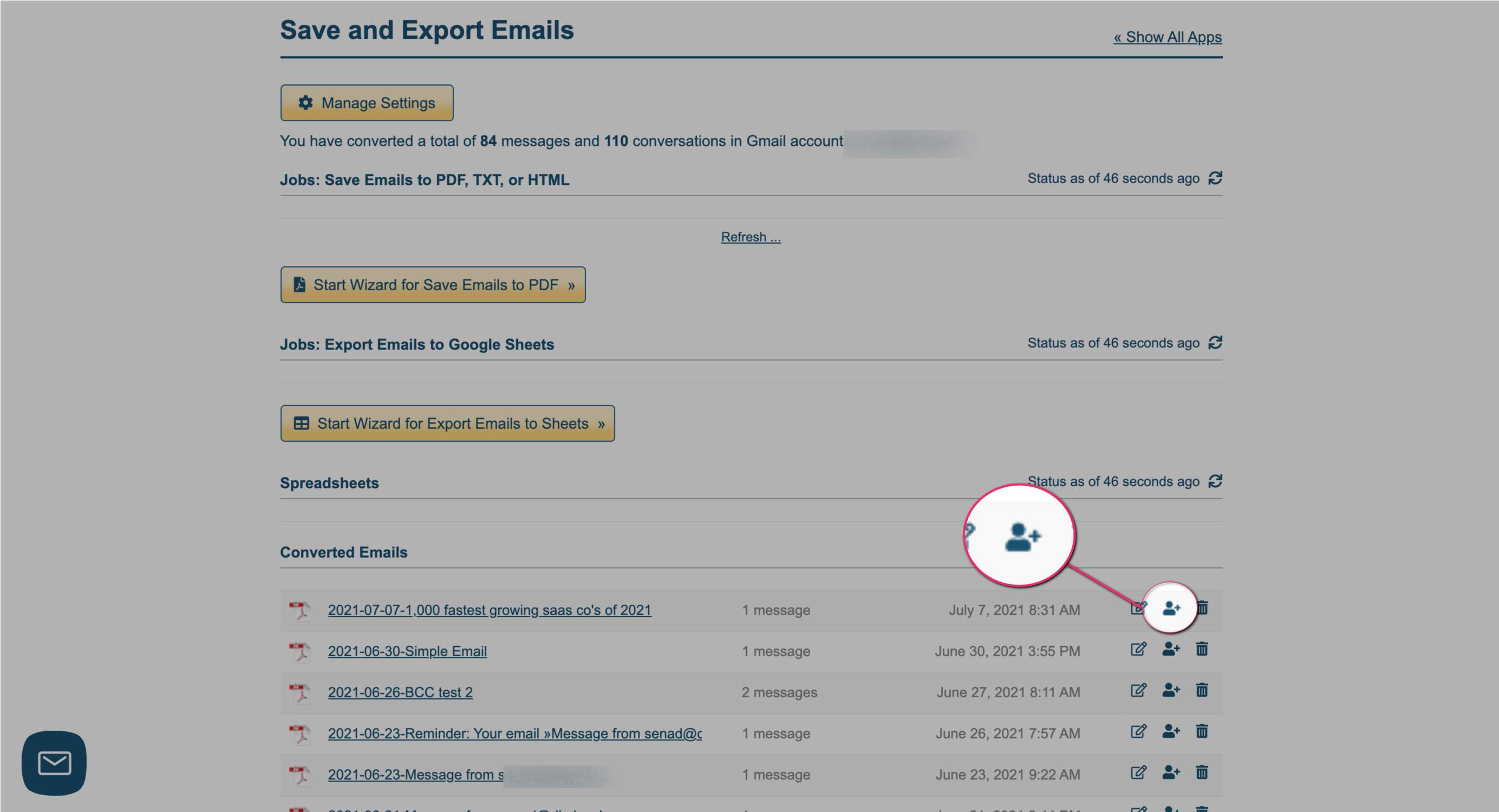 Securelly Share Packages and PDFs
You can securely share PDFs and packages with your colleagues, legal team, lawyer, or partners. Just click on the 'share' icon, and you will receive a secure link for sharing. Learn more here.
Easly Forward Emails as PDF Documents
You can also attach PDF files to your outgoing email by simply draging email messages and droping them into compose window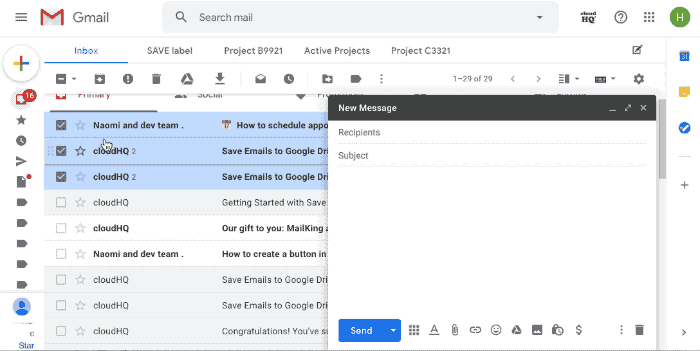 Search and Package Large Number of Emails
There are so many reasons to save your emails to PDF:
✅ Legal issues
✅ Realtor and construction projects
✅ Safe keeping & back up for really important emails.
Whatever the reason is, here's a really simple way to backup all your important emails to keep them for your own records.
Save Emails to a Compact PDF
PDF saved with compact format has all unnecessary info such as signatures, quotations, page breaks and redundant information removed and only the important info remains. Considering the amount of emails people receive on a daily basis, it is essential that you try to make your messages as concise as possible.
Benefits:
✅ Generate PDF with only cruical information - great for lawers, investigation, etc.
✅ Elimination of long PDFs✅ More Efficient Collaboration
✅ Be Environmentally Friendly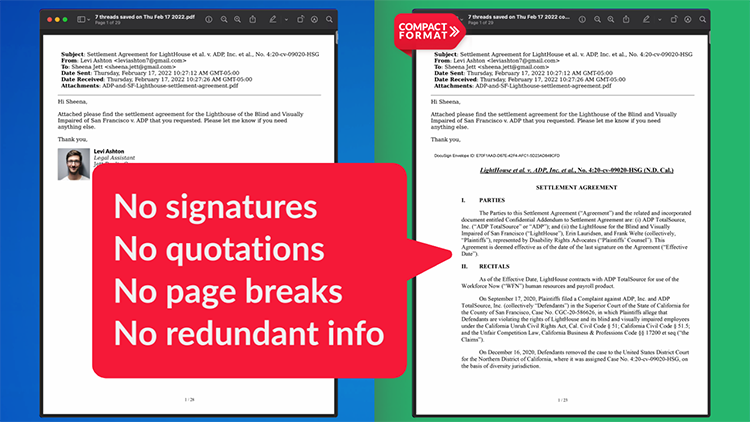 Generate Encrypted PDF Files
Sometimes you're saving very sensitive emails to your PDF file, and want to ensure its privacy and security. That's why we offer 256-bit military grade encryption, and password protection. This way, when you send your PDF document to someone you trust like your lawyer or your accountant, not only is your document's data impenetrably secure, but that trusted person can only access your file once you've given them a password.
Attachments Included
Email attachments are also saved. We can also convert attachments to PDF and appending to the PDF file. So all your excel attachments, doc attachments, etc. will part of your PDF.
Convert Email to PDF Without Printing
Save Emails to PDF is a perfect solution to convert email messages to PDF without printing. Just select emails from your inbox, and you can save them. You can save multiple emails in one PDF document, which can be shared, printed, archived, etc.
Team Management
This team solution enables you to activate 'Save Emails to PDF' for your employees company-wide or you can also decide to pick who gets this feature:
Consolidated billing
Volume Discount
Google Workspace admin integration
Pay via invoice
Installs in Seconds
You can easily install Save Emails to PDF in seconds from the Chrome Web Store. Once installed, the tool will be seamlessly embedded into your Gmail or Google Workspace email account.
Free Trial Available to Everyone
Save Emails to PDF is 100% free to use for up to 50 conversations. Need to save more than 50 conversations? Our premium plan costs just a few dollars a month and includes phone and email support.
Premium Plan Available
Our premium plan costs just a few dollars a month. It includes phone and email support and you have options to:
Include or not to include attachments
Add or skip page numbers
chose paper size (letter, A4, A5, etc.)
More...
Install Save Emails to PDF
---
How Are People Like Me Using Save Emails to PDF?
Legal Professionals
If you're on a tight deadline to produce emails for e-discovery, FOI requests, or any other reason ... - Save Emails to PDF is the solution. Save Emails to PDF can create an accurate PDF of any email messages or conversations. For example, your client can easily produce an email archive and share with you the package with one click.
When Working With Legal
Getting sued? Locked in a court battle with a client over non-payment? It's often a huge hassle to get all the paperwork together or these kinds of things, including copies of emails your legal team requests or asks you to hold. Save Emails to PDF makes it easy to get your emails together for discovery—or any part of the legal process.
For Receipts
Save your emailed receipts as one PDF file. Then send the file to your human resources department for reimbursement. Or send them to your accountant or bookkeeper for their records.
With Clients
Multi-week project? How about a multi-year project? With one click, you can download PDF copies of your emails and store them in a shared drive or project folder for later reference—including attachments.
With Your Boss
Boss or supervisor just "volunteer" you to solve a big problem? Did she just forward a series of emails detailing the situation that just became your new big project? Select those emails and save them to your hard drive with one click so you can refer to them as you work on the problem.
When Working With HR
Let's say you have a situation in your department that requires you to visit to HR. Save Emails to PDF lets you quickly compile any communications you've had with the person in question so you can forward them to HR in one email—instead of having to forward them one by one.
For Customer Service
Have a problem customer that you need to pass on to a higher up? Save their conversation thread and any attachments in one click.